Since our opening in 2006, Punto de Fuga has been a firm believer in the fundamental right to privacy. We have always been aware that the data and information provided to us by participants belongs to them. Thanks to their data, we can help companies improve their products and services. We have always conceived privacy as a strategy that must be present in all our projects and steps, from the moment of their conception and onward.
In 2021, we wanted to take it a step further and adhere to the CODIM code of conduct, promoted by I+A. It regulates the processing of personal data in market research. CODIM is a framework that establishes how companies involved in research and data analysis should treat personal data.
On September 23rd, after running the external audit process, it got confirmed that in Punto de Fuga we meet all the requirements established by the CODIM. A fact that makes us happy and proud.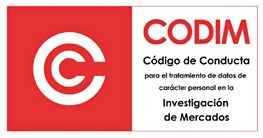 During the process of adaptation, we collaborated with Oriol Llauradó, a consultant specialized in data protection and member of the Ethics Committee of I+A.
We from Punto de Fuga want to encourage you to deepen and insist on the value that our industry brings to society and the crucial role it plays in it. This is the best way to continue counting on the cooperation and trust of the public. The challenge is enormous, but researchers are in a privileged position to understand and give a voice to the people. We are still in time to do so.