This week the HIP | Horeca Professional Expo, the biggest annual innovation event in the HORECA channel, was held in Madrid, and Punto de Fuga could not miss it.
More than 400 brands (Coca-Cola, Makro, Unilever, Pascual, Campofrío, Heineken, Bimbo, Pescanova, Ilunion, Santander Bank, Europastry, Eltenedor ...), 25.000 attendees, businessmen and renowned chefs (Dani García, Ricard Camarena, Jesús Segura, etc.), more than 200 conferences, Showcooking (Makro was the most active brand in this plot) figures that help us understand the size and success of an event like this.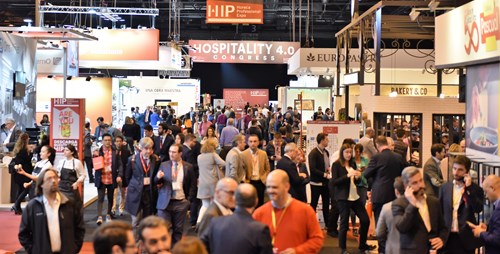 A meeting where we could see first hand the technological novelties (with a clear bet for the digitalization of the food service industry) and the sustainability promoted by the Horeca channel, as well as, in particular, the launchings and the evolutions presented by several brands such as ...
Heineken and his new movements featuring the restored beer El Aguila, 18/70 or Lagunitas craft beer (coming from USA).
Pescanova surprised us with its innovative tapas based on seafood, offered at a modern food truck (Gastrobus), or
Calidad Pascual was present with its constant revolution in categories such as smoothies or vegetable drinks, as well as its commitment with the Take Away format.
It is obvious that the Horeca channel is in a stage of evolution and change, joining the winds of renewal that society demands.
More information at...